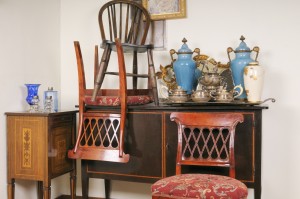 We eliminate the overwhelming stress and uncertainty related to the estate of a loved one or the need to downsize. Blue Leaf Estate Auctions is an award-winning estate sale auction company recognized as the trusted name for individuals and families experiencing a life transition.  The professional care and attention that Blue Leaf Estate Auctions provides has gained a reputation that can be relied upon.
Locally owned and operated with over 30 years of experience.  We offer honest and 100% transparent business practices.  Most importantly we welcome our sellers to attend their sale and join in the excitement of recycling a lifetime of memories.  The contents of the estate will be SOLD in 1 DAY and in open view with no hidden transactions, no haggling, and no need to wait days or weeks to tag every item.
Our Master Auctioneer, Rowlan Hill is considered one of the most sought after live auctioneer and industry experts for estate sale auctions, celebrity fundraisers and liquidation needs.  We make the estate sale experience EASY, FUN and REWARDING for sellers and buyers alike.
CALL TODAY for a FREE CONSULTATION with NO OBLIGATION
(602) 758-0865
It's like a yard sale, or a tag sale, or an estate sale but BETTER!
FREE in-home consultation
Everything SOLD in 1 Day
No hidden transactions
No haggling
No need to wait days or weeks to tag every item
Sellers are welcome to attend their sale
Fast payment to sellers
We market and advertise to thousands of qualified buyers