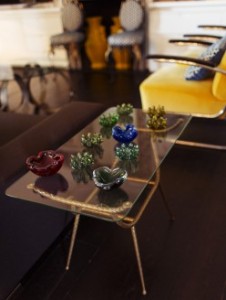 What is beautiful to you?  Have you ever felt a pull or attraction towards something that has caught your eye?  Made you stop and look?  Maybe even made you stop and stare?  It happened to us!  For that reason we decided to write our very first blog about someone else's blog.
Todd Selby is a photographer among other hats.  His blog The Selby http://theselby.com/ takes us inside the real homes and lives of real people.  He gives us a glimpse of living beauty with an "artist's eye for detail".  He notices details in the everyday lives of these people and shares it in a gorgeous photo collage that made us – stop and stare.
The collages are (in our opinion) an immaculate example of, "no matter where you live you can live with style and simplicity".  His blog is something so strikingly beautiful and thoughtful that we had to share.
Everything in these homes can be found at estate auctions.  The collectibles, the everyday items, the art and furnishings.  Any one of us could create one of these livable and beautiful spaces.  Our favorite collage was J.J. Martin http://theselby.com/galleries/jj-martin-writer-and-editor-at-home-in-milan/.  She pulled together random collections of glass ashtrays into a beautiful 3-d stained glass menagerie atop her coffee table.  She laid her books on their sides and turned one to reflect the gold leaf edges of the pages.  Little details in her home are beautiful and inviting but simple.  Any one of us could be inspired by these details in our own space.
The Selby is one our favorite examples of how to take found treasures from estate auctions and blend unique old pieces with your existing home.  Take a peek and see what you find to be beautiful.