Blue Leaf Estate Auctions are similar to a traditional estate sale, tag sale or yard sale – but BETTER!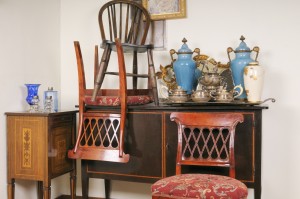 Why? Because everything is SOLD in 1 DAY.  We don't guess how much your items are worth because we sell everything for a fair market value.  Their are no hidden transactions and no price haggling. There is no need to wait days or weeks to price every item.  Our sellers are paid in 5-7 business days. Our commissions are competitive.  Sellers are welcome to attend their sale.
Our FREE in-home consultation comes with NO obligation. No upfront fees. No out-of-pocket costs to you.  We're here to help. 
If you're an executor or family member settling an estate or you simply have a need to downsize – call us now.  We eliminate the overwhelming stress of liquidating personal belongings and years of accumulation.  No matter condition or size.
Blue Leaf Estate Auctions is locally owned and operated.  We bring more than 40 years of experience and the professional service expected by an industry leader.  Our award-winning Master Auctioneer is considered one of the most sought after live auctioneers and industry experts for estate sale auctions, celebrity fundraisers and liquidation needs.  From farms with livestock, to million dollar estates, to a trailer with a garage – we've done them all.  
We offer honest and 100% transparent business practices. Don't get overwhelmed or frustrated with a task intensive tag sale or a do-it-yourself yard sale.  Estate auctions are better, faster, easier.  We market and advertise to thousands of qualified buyers and regular investors.  Our buyers enjoy shopping vintage, old and dusty or brand spanking new.  We bring the buyers to you.
FREE in-home consultation. NO obligation
(602) 758-0865
OR email us by filling out the short form below